Pierless Bridges
The Joan and Ralph Lane Center for Catholic Social Thought and the Ignatian Tradition
Volume 2: 2021
Social Analysis with Reflection
Quarantine Connections: A Student Postcard-Making Project to Build Empathy & Community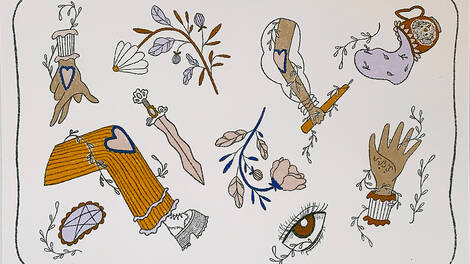 As Lane Center Faculty Fellows this year, we had the opportunity to collaborate around Jesuit traditions in generative ways that eased the isolation we felt during the pandemic. As faculty members in the Department of Art + Architecture, we wished to respond to the unique challenges of 2020–21 through an art-making project that would bring together the department's five programs and its faculty, staff, and students in a shared and mutually supportive enterprise. Our aims were to foster a sense of community and empathy during this most unusual of years and to highlight the unusual power of the visual arts in the Jesuit tradition to advance our most closely held, shared values. We wanted to help our students realize through a project of self-expression that they might have felt isolated this year, but that they were not alone.
The result was a collective, student art-making initiative that asked participants to create an original work of postcard art as a visual response to their personal experiences during quarantine and remote learning. Along the way, the project benefited significantly from the collective support of our larger department, and the rich contributions of an interdisciplinary arts working group we started with other A+A faculty and staff colleagues including Steven Doctors (Architecture), Eric Hongisto (Fine Arts), Javier Plascienca (M.A. in Museum Studies), Nell Herbert (Thacher Gallery), and Sarah Schweitzer (program assistant). Seeking greater connections with our students (and each other) during our year working remotely, our group came together with a collective belief in the unique potential for art to help in coping with personal or collective trauma, and in making our university and wider communities — and indeed our world — richer and more inclusive places to live and thrive. Our resulting idea revolved around offering our students an outlet to express themselves in a larger, collective enterprise based in simple human connection at an incredibly difficult time.
Working together via Zoom throughout the fall, our group solidified our original concept into a student assignment during the first month of the spring 2021 semester. The prompt asked students to produce an original 4" x 6" work of (mailable and digital) postcard art in which they creatively responded to one highly personalized question: "Where Are You?" This question — seemingly simple, yet potentially complex — was intentionally left open to varied interpretations in order to encourage students to think imaginatively about their personal experiences. Students could reflect on the question literally or abstractly from physical, mental, emotional, intellectual, or spiritual perspectives, and were invited to respond in any medium(s), provided they could mail their actual (analogue) postcard back to our department.
During the first month of the semester, students created their metaphorical postcard "self portraits" through a rich mixture of collage, digital imagery, photography, painting, drawing, yarn, plants, and more. To facilitate the assignment, we provided each instructor with a detailed project specification sheet and encouraged all participating instructors to tailor certain aspects of the assignment to specific course learning objectives. Students were then asked to upload their designs digitally to a Google Form along with notes regarding their chief inspiration(s), as well as to send in their physical postcard to USF. Already by the end of February, our working group received 150 digital designs by students representing all five of our departmental programs.

From the original digital submissions, over 50 postcard designs were eventually selected for virtual exhibition this spring, including the student art reproduced throughout this edition of Pierless Bridges. Collaboratively curated by undergraduate Museum Studies students, this exhibition, entitled Quarantine Connections: Sharing Art in a Time of Isolation, features works by over 50 student artists, exhibited on the Kunstmatrix.com online platform from May 7 – Sept. 7, 2021. The student curators' concept for the display — "sharing self-reflexive art created in isolation cultivates empathy" — became the guiding force for all their object selection and design choices, as well as the focus of their virtual exhibition opening on May 7, 2021. Students organized their exhibition into four themes emphasizing the complex and paradoxical experiences they all faced during the pandemic: Isolation and Connection; Home and Yearning; Stasis and Transformation; and Struggle and Hope. The exhibition project became personal for them, as the student curators — who made their own postcards earlier in the semester — also found themselves, in a sense, curating their own lived pandemic experiences, even while still living them.
From its conception, the project was inspired by early Jesuit commitments to the visual arts to advance their most important values, and undergirded by the following five principles of Ignatian pedagogy located in The Spiritual Exercises:
Context
Human experience is the starting point in Ignatian pedagogy. As a result, individual context matters. As educators we need to care about and understand the many worlds of our students, including ways in which family, friends, social pressures, politics, economics, media, and other realities impact them. This means reaching out to them in a spirit of generosity and understanding. We hoped that by advancing this project, we could learn more about and honor our students' diverse personal experiences, especially at an historically traumatic time.
Experience
For Ignatius, this principle meant not only personal physical experiences, but also internal ones. We aimed to enhance student connection and learning by creating an opportunity for students to consciously gather and recollect the material of their own experiences — externally and internally — and distill what they might already have intuitively understood, in one small, but conceptually rich, work of self-expressive art.
Reflection
Self-reflection and sustained contemplation on one's own experiences also are critical meth-ods for gaining knowledge in Ignatian pedagogy. We hoped to elicit thoughtful and reflective visual responses by asking a seemingly simple, yet highly personalized, question that forced students to reflect on "where they were" at the time they made their work. While some students responded to the question literally (e.g., in terms of physical location, given the remote environment), the prompt was designed for ambiguity, leaving open the possibility of encouraging more personal and nuanced reflective responses.
Action
Individual contemplation and the knowledge it engenders ultimately begs principled action. As faculty, we identified a small, but hopefully meaningful, role we could play in inviting students to participate in a collective action: one that would challenge their creative powers and encourage them to consider their experiences from a humane, personal point of view, while also remaining open to their further reflections. In this context, the project was designed to stimulate our students' imaginations and to offer them a chance to put into physical form their own ideas about where they "were" in the midst of so much personal, social, and political strife.
Evaluation
The widespread student, faculty, and staff participation, and the visual and conceptual power of the student work, speak to the impact of our collective action. Our students' own words offer yet more evidence that the postcard-making and exhibition projects were meaningful. As one student wrote: "I am incredibly honored and excited that my postcard will be traveling to so many places." Some of our colleagues likely benefited, too, as the project allowed us to create something meaningful together in the midst of trying to solve so many pandemic-related logistical problems remotely. We even heard from some instructors that the assignment allowed them to get to know their students more personally, affirming again the power of art and cura personalis as foundational aspects of a Jesuit education.
While we hope that these projects helped students feel more connected to themselves and each other by offering them a creative outlet for self-expression, clearly so much more can be done. To this end, we are seeking new opportunities for our students around this project when we are back on campus in fall 2021, including staging an in-person exhibition of the actual postcards received in the mail to celebrate our physical coming back together: hope-fully showing yet again the rich potency of the visual arts to help build empathy and human understanding, and to further stitch together the many parts of our diverse community into one unified whole, when, as one of our students put it, we are "together, but apart."
NOOPUR AGARWAL, Design, Department of Art + Architecture, is a designer and educator who has worked in the nonprofit, publishing, and technology sectors creating brands, exhibitions, and publications. Her recent creative works have included large-scale installations, data visualizations, exhibits, wayfinding, and projection art.
KATE LUSHECK, Art History and Museum Studies, Department of Art + Architecture, is a Lane Center Faculty Fellow for 2020-21. Her monograph, Rubens and the Eloquence of Drawing, was published in 2017 by Routledge. Her current research interrogates the intersections of Rubens's art and early Jesuit pedagogy. She is also a longtime curator, especially of works on paper, and enjoys collaboratively curating exhibitions with her Museum Studies students at USF.