Pierless Bridges
The Joan and Ralph Lane Center for Catholic Social Thought and the Ignatian Tradition
Volume 2: 2021
Faith with Justice
Peace Education: A Model in Africa by Africans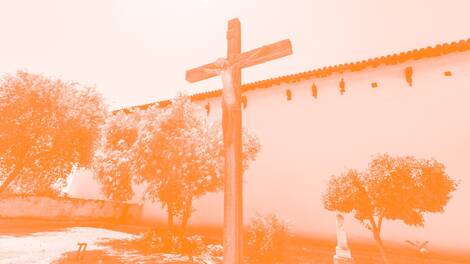 Peace education is key for establishing a consensual and sustainable peace in the world. Nothing replaces the value of peace education in families, schools, universities, churches, temples, and mosques. Blacks and Whites, Easterners and Westerners, Asians and Africans, Pagans and Jews, Catholics and Protestants, Muslims and Hindus, despite their ideological and cultural differences, must learn to live with one another in this great world. More than ever, claimed Martin Luther King Jr., "We must learn to live together as brothers or perish together as fools." Mutual acceptance is the foundation of human rights and allows us to accept our shared duties on the common ship of humanity.
In order to achieve this universal fraternity, a petition was signed and presented to the General Assembly of the United Nations on Sept. 19, 2000. It was the "Manifesto 2000," created by a group of Nobel Peace Prize laureates on the occasion of the celebration of the 50th anniversary of the Universal Declaration of Human Rights, as follows:
The year 2000 must be a new beginning for us all. Together we can transform the culture of war and violence into a culture of peace and non-violence. This demands the participation of everyone. It gives young people and future generations values that can inspire them to shape a world of dignity and harmony, a world of justice, solidarity, liberty and prosperity. The culture of peace makes possible sustainable development, protection of the environment and the personal fulfillment of each human being.1
Recognizing their share of responsibility for the future of humanity, the signatories pledged to respect the life and human dignity of every person without prejudice, to practice active nonviolence by rejecting all forms of violence, to share their time and material resources generously, to defend freedom of expression and cultural diversity, and to promote an ecological development. Unfortunately, 21 years after the proclamation of the Manifesto, we observe that humanity has not yet achieved flourishing peace. On the contrary, the gap between the laureates' noble aspirations and reality seems to be widening. To make this dream come true, educators should commit to peace education based on its values, including solidarity, acceptance, love, and respect of life in human beings, animals, and nature.
In 2020 I published Manuel d'éducation à la paix en Afrique, a handbook for teaching peace as my contribution to the challenges of sustaining peace in Africa. The result of teamwork, the handbook benefited from many contributions and was inspired by my own experience in peacebuilding for 15 years in conflict regions of Africa. While I was working in the Central African Republic, I recorded grassroots experiences, campaigned for peace, and contributed to build communities. My main intention in writing this book is to contribute a reflection based on an African vision of making peace. Although peace is a universal ideal of self-satisfaction, harmony with others, nature, and God, making peace depends on cultures, customs, traditions, relations, and openness to transcendence. Peacemaking is a continual process that does not exclude conflicts, but integrates many efforts to overcome disputes and violence.
In this handbook, I provide institutions, organizations, and all people of goodwill working in the field of peace and reconciliation with an interactive, practical, and accessible training instrument adapted to the context of Africa. I am convinced that for Africans to become genuine makers of peace on their continent, leaders and educators have to combine traditional values inherited from ancestral wisdom with modern values and religious virtues. The transformation of conflicts and the promotion of human rights and social cohesion require creative fidelity between the past and the present.
Composed of seven modules, the handbook explores many areas of peacebuilding, develops strategies to resolve conflicts, and appeals for more responsibility in the management of public affairs. The first module is about making social relationships at the levels of families and communities. Because human beings are social beings, it is important to care for one another and become instruments of peace. "Since wars begin in the minds of men, it is in the minds of men that the defenses of peace must be constructed."2 All persons ought to commit to peace in society. This module is inviting Africans to accept ethnic diversity and consider cultural traits as opportunities to enrich the continent instead of perceiving them as threats to unity.
The second module explains and develops strategies for the transformation of conflict. Conflicts are part of life and can contribute to improving relationships when people agree to listen to themselves and question the causes of their disagreements and disputes. Conflicts, when faced with a positive mindset, can become a source of inspiration, enlightenment, learning, transformation, and growth. The third module is focused on the different components of peace. Peace is not only the absence of violence. It consists in creating harmony between members of the same community. Building peace demands respect for human dignity, mutual acceptance, and engagement to work together. It is a continual process. Mahatma Gandhi was right when he said, "There is no path to peace. Peace is the path." And peace is not possible without respect for nature, animals, and the entire cosmos. It is all about building harmonious relations.
Module four is related to communication and offers examples of nonviolence techniques. The way people communicate and interact with one another either shapes peace or spreads violence. There is a lot of potential in languages and gestures to influence the direction toward peace. In this module, I teach Abraham Maslow's nonviolent communication techniques and explain the different peaceful methods used by Dr. King and Mahatma Gandhi to tackle violence in the United States and in India during their lifetime.
IN AFRICA, THERE IS NO POSSIBILITY OF BUILDING PEACE WITHOUT INVOLVING RELIGIONS.
The main arguments defended in the fifth module consist in presenting religions as systems of belief containing core values that could help to make the world a good place to live. In Africa, there is no possibility of building peace without involving religions. The African traditional religions and imported religions including Islam and Christianity are presented in this module as religions that could contribute to shape communities and reconcile enemies. Religions become instruments for peace when practitioners know how to focus on values instead of only discussing dogmas.
The sixth module is about human rights and duties and transitional justice. There is no peace where human rights are violated. And no right can stand where people do not perform their duties. In using many examples and some raw models' commitment for rights, this module explains how one can promote human rights in one's country. In the African Charter on Human and Peoples' Rights, it is written that individuals do not only have rights. They also have duties and ought to perform them:
The individual shall also have the duty to preserve and strengthen positive African cultural values in his relations with other members of the society, in the spirit of tolerance, dialogue and consultation and, in general, to contribute to the promotion of the moral well-being of society. (The African Charter on Human and Peoples' Rights, article 29.)3
Module seven, the last one in the handbook, is dedicated to specific virtues key to making peace in society, including integrity, proactivity, audacity, and preferential options for the common good and for the poor. Peacemaking is not only a question of technique, it also appeals for us to apply goodwill and a spirit of sacrifice. The handbook also develops African values that promote peace, including the principles of Ujamaa (Working together), Burkindlem (Honesty), Ubuntu (I am because we are), and Bisoité (Togetherness).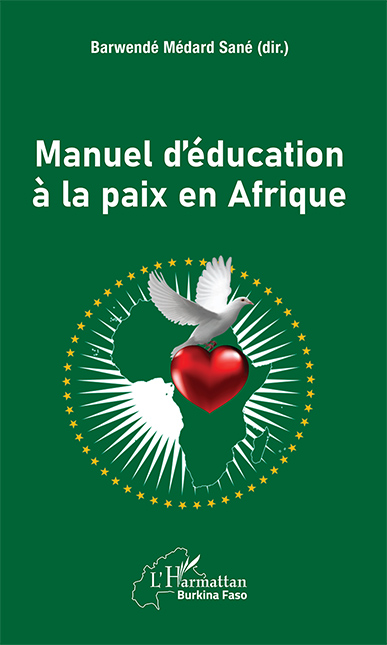 When I published Manuel d'éducation à la paix en Afrique, my intention was to participate in a positive change for Africa, because I know that nothing good can be built without peaceful foundations. Perhaps now we can summon the audacity to dare to create a better Africa from Africans' imagination. Instead of relying exclusively on models of education and paradigms written by western countries to solve universal problems, I trust the capabilities of Africans to be the masters of their own destiny.
Thomas Merton observed that: "Peace demands the most heroic labor and the most difficult sacrifice. It demands greater heroism than war. It demands great fidelity to the truth and a much more perfect purity of conscience." There are opportunities to transform the culture of war and violence, the oppression of the rich on the poor and the structures of injustice, into a culture of peace and active nonviolence. Such a transformation requires the participation of all Africans, including the commitment of leaders to shape a continent that is more just, more united, free, dignified, and harmonious, resulting in a world that is more prosperous for all. Indeed, the dream of sustainable development and racial and ecological justice will come true when peace education is taken seriously. Peace, like art, transcends science. It demands imagination, innovation, constant adaptation, and continual conversion. I hope my book will contribute to supporting our efforts to create enduring peace among nations and people, starting with the African continent that I know and love and continue to serve.
BARWENDÉ MÉDARD SANÉ, SJ, is a Jesuit Priest from Burkina Faso who graduated from Santa Clara University (CA) in 2013. Before receiving an S.T.L. and Th.M. in Social Ethics from Santa Clara, he earned degrees in Theology and Philosophy from African universities. He has fourteen years of experience in African conflict regions (Democratic Republic of Congo - Chad - Ivory Coast - Central Africa Republic), including five years as director of the University Catholic Centre of Bangui, Central African Republic. He is currently pursuing a doctorate in education at the School of Education, University of San Francisco (USF) and living in the USF Jesuit Community.
References